Pet-Friendly Resorts in the U.S.
Source: https://www.tripstodiscover.com/top-18-pet-friendly-resorts-in-the-u-s/18/
West Beach Resort – Orcas Island, Washington
There is a lot of dog-friendly activities on Orcas Island. You and your pet can enjoy hiking in Turtleback Mountain Preserve and swim the waters along North Beach, roam leash-free in Eastsound's dog park and stay at West Beach Resort, featuring cabins and cottages on a half-mile dog-friendly beach.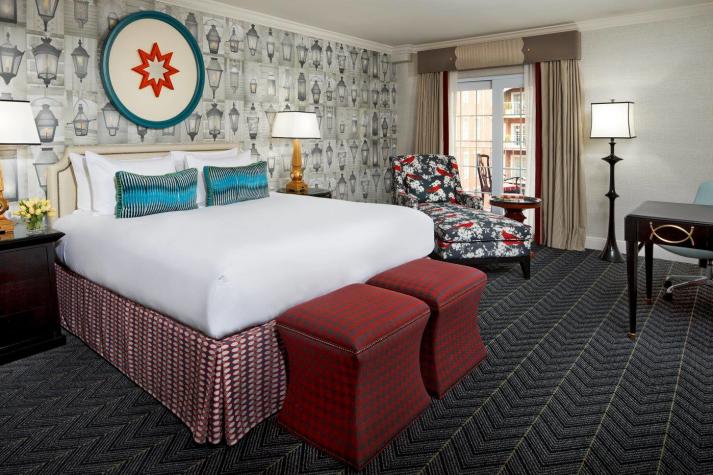 The Alexandrian Autograph Collection – Alexandria, Virginia
The Alexandrian, Autograph Collection is a luxury boutique hotel located in the heart of the charming Old Town Alexandria. Owners can bring their pets to Doggy Happy Hour during the summer months, allowing dogs to munch on complimentary treats and sip water, while owners get to sip their choice of an alcoholic, or non-alcoholic, beverage. The hotel welcomes two pets per room and fees apply.
Loews Coronado Bay Resort – Coronado, California
Loews Coronado offers organized surfing lesson, complete with doggy board shorts or a bandana and a surf 'n' turf meal for your four-legged friend. Your dog can play leash-free at Coronado Dog Beach. At check-in, he'll be given a special treat with a placemat and bowls for food and water which can be taken home. A vet designed its "Loews Loves Pets" in-room dining menu to ensure proper nutrition for your pet.
Topnotch Resort – Stowe, Vermont
Topnotch resort offers luxurious accommodations in the Green Mountains of Vermont close to great skiing and hiking. If your dog gets sore after hiking, just sign him up for a "Rover Reiki" massage treatment followed by a restful nap on a fleece-wrapped AeroBed. Dogs get an organic Mini-Bone treat in flavors like bacon and cheddar, liver and bacon, and carob-chip oatmeal as well as a keepsake water bowl to remember the experience.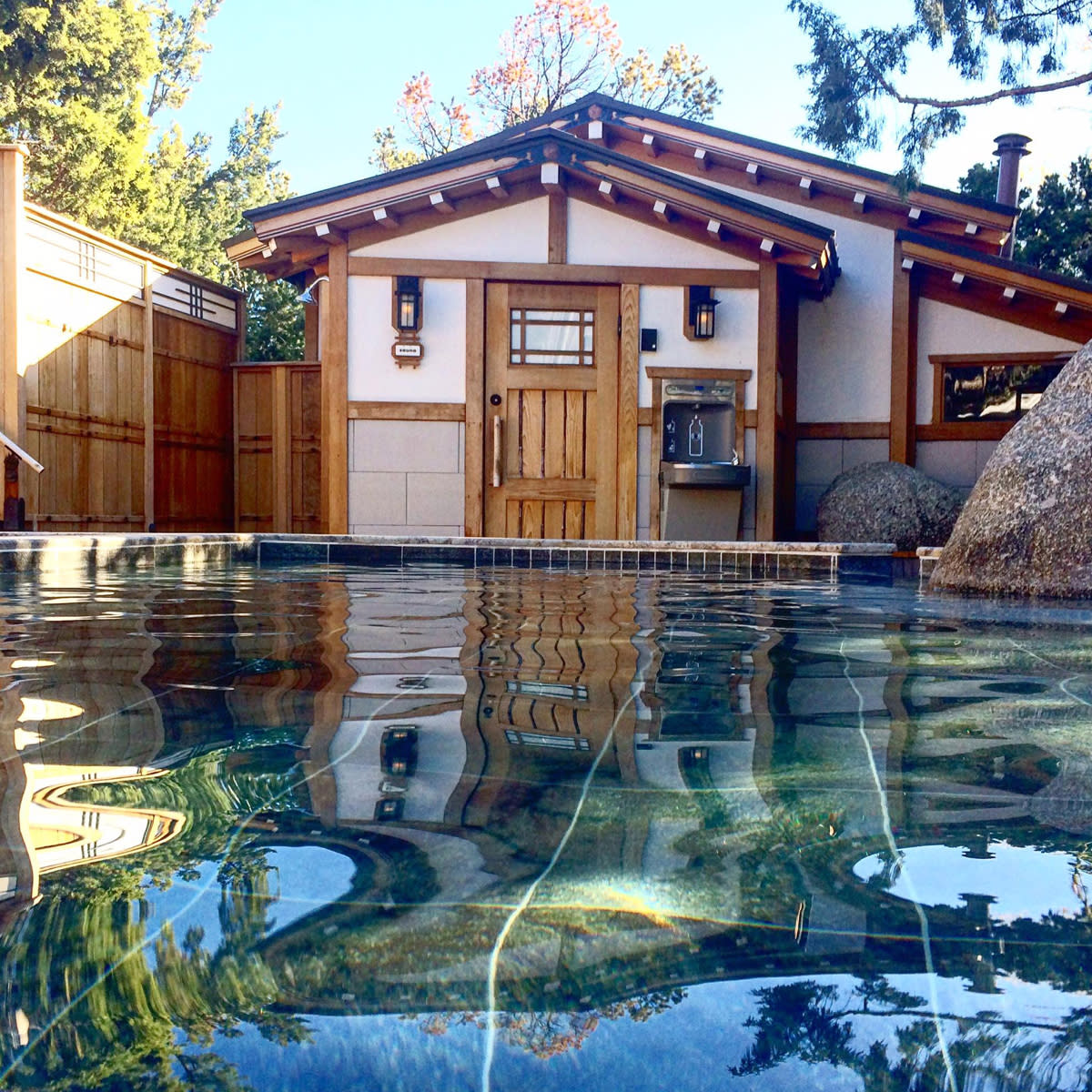 Ten Thousand Waves – Santa Fe, New Mexico
Ten Thousand Waves is a traditional Japanese-style inn that was inspired by the great mountain hot spring resorts in Japan. They offer the ultimate dog-friendly bonus with a great outdoor place to run around, along with their own bed to relax in afterwards. While each house varies in size, all include a dog-proof fence.
Palmeiras Beach Club – Miami, Florida
Palmeiras Beach Club offers the chance to stay on a private island with your pet, just minutes from the top attractions in Miami. The resort features a quarter-mile path around the island, grassy areas and large rooms with patios that are perfect for those traveling with pets. The "Doggy In Room" dining menu features items like the Canine Filet, filet mignon with chunky potatoes and carrots, as well as Chicken Pot Pie.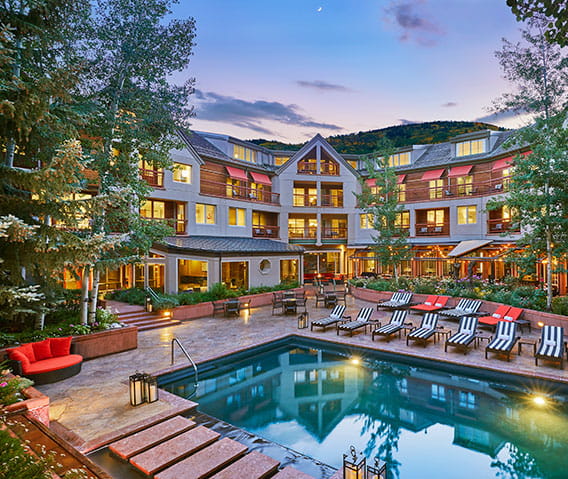 Little Nell – Aspen, Colorado
The Little Nell is one of the best resorts in America – and, your four-legged friend will be pampered with an array of luxury amenities, including epicurean treats and selections from a special pet menu. Staff will even walk them, sit them and guide you both to pet-friendly trails. Bowls, beds and even a Puppy Jet Lag Kit is provided to help them get used to the high altitude of Aspen, with the town sitting at just below 8,000 feet.
The Muse – New York City, New York
The Muse is a boutique hotel in New York City located just steps away from Times Square and also happens to be the most impressive pet-friendly hotel in the city. All animals are welcome with no extra charge, with any number accepted without size or weight restrictions. Ginger, a teacup Pomeranian, serves as the official "Director of Pet Relations." The Muse has a special Pampered Pooch and a Hers and Furs package which provides in-room pedicures for a guest and her dog. Pets also receive a special welcome package with food and treat for both the dogs and their human companions when checking in.
Stanford Inn – Mendocino, California
The Stanford Inn on Northern California's beautiful, rugged coast in Mendocino, was named as one of the top destinations in the west for a dog-friendly vacation by Sunset magazine. Guests can enjoy stunning views, with the property set atop a meadow overlooking the water, as well as access to bicycles and canoes, organic foods, fair trade coffees and teas – and, some of the finest massage therapies on the coast.
Red Mountain Resort – Ivins, Utah
Red Mountain Resort in St. George, Utah offers the chance to escape to the beauty and tranquillity of this majestic red rock area and enjoy a vast selection of healthy living activities, fantastic dining and a world-class spa. Pets receive organic treats, food and water dishes upon arrival. Guests can expand their wellness experience with their furry friends through pet-oriented programs too. Horseback riding and "Hike for Hounds," an activity in which guests can bring their dogs, are just two of the fun options available.
Calistoga Ranch – Calistoga, California
Calistoga Ranch is one of the most relaxing spa resorts in California, nestled in a private canyon in the Upper Napa Valley area on a 157-acre site and it's also one of the most pet-friendly properties you'll find. Pets can enjoy a lavish, custom pet bed, pet room service menus and the same attentive treatment too. Scheduled daily-guided hikes in the resort's secluded canyon setting, organic pet treats and spring water are provided along with bags for pet cleanup and special pet tags.
Mountain Top Inn and Resort – Chittenden, Vermont
Mountain Top Inn and Resort owners offer a warm welcome to both you and your pets in one of four deluxe custom cabins or select vacation rentals. This classic four-season resort sets up canine guests with a dog bed, bowls for food and water and a special welcome treat made by Vermont company Good Dog! Cookies. Your pet can join you on the nearly 10 miles of cross-country ski trails and hiking trails.
Hyatt Regency Scottsdale – Scottsdale, Arizona
The Hyatt Regency features its "4paws" program which begins with an introduction to the property by Uno, its dog ambassador. A special 4 paws "beastro" menu which contains reasonably priced options like chicken risotto and veggie bruschetta as well as organic dry dog food. If you want to give your pet a special treat, "pupcakes" (frosted carrot cupcakes) are also available.
Dahlonega Spa Resort – Dahlonega, Georgia
Located near the foothills of Georgia's Blue Ridge Mountains, Dahlonega Spa Resort is one of the most luxurious spa resorts in Georgia, offering guests the opportunity to enjoy fresh mountain air and nature trails with their four-legged friend. Spa treatments, massage and an outdoor Jacuzzi combine to make a complete escape for rejuvenation and relaxation.
Cranwell Resort – Lenox, Massachusetts
This premier, award-winning resort in the heart of the Berkshires of New England has an abundance of nature trails and open spaces that are ideal for guests traveling with pets. Guests enjoy complimentary access to the spa, which includes a glass-enclosed heated indoor pool, whirlpools, saunas, steam rooms and a fitness center. An 18-hole historic golf course set on 380 hilltop acres is a big draw for golf enthusiasts.
Salamander Resort & Spa – Middleburg, Virginia
Salamander Resort & Spa is one of the few dog-friendly hotels in Virginia. The resort features pet-friendly accommodations so guests don't have to leave their furry best friends at home. In-room dog amenities include food and water bowls, organic treats, a comfy bed, a special toy and waste bags. On-site dog-sitting can be arranged, and, by visiting between early June and late October on Tuesdays, your dog can even enjoy "Yappy Hour," complete with drinks, snacks and dog treats.
Hyatt Regency Lake Tahoe Resort, Spa & Casino – Lake Tahoe, California
Lake Tahoe offers a ton of fun with your pet with an abundance of great trails for hiking and the glistening waters of the lake for a cool summer dip. The Hyatt Regency sits on the banks of the lake and has designated pet-friendly rooms that are conveniently located on the first floor for easy access in and out of the building. If the rooms are filled, the concierge is able to assist in arranging pet boarding at nearby facilities.
The Ritz-Carlton Bachelor Gulch – Avon, Colorado
This grand resort exudes Rocky Mountain luxury, situated on Beaver Creek Mountain. It's known for the best ski-in, ski-out experiences in the U.S., world-class spa and exceptional service – and, your pet is treated with an elaborate doggy room-service menu tailored to his age, complete with a dessert of liver kisses or peanut butter cookies. Guests are even greeted by the wagging tail of the resident canine ambassador, a St. Bernard named "Bachelor."