May Is for Mutts: Can't-Miss Dog-Friendly Events in May

May is a very good time to be a dog. This is one of the most animal-friendly months of the year, with a variety of events, festivals and observances dedicated to man's furry friends. Add the late spring weather that begs you to be outdoors, and you have no shortage of dog-friendly events and festivals to enjoy with Fido around the country. And most of them are free!
A Full Calendar of Dog-Friendly Events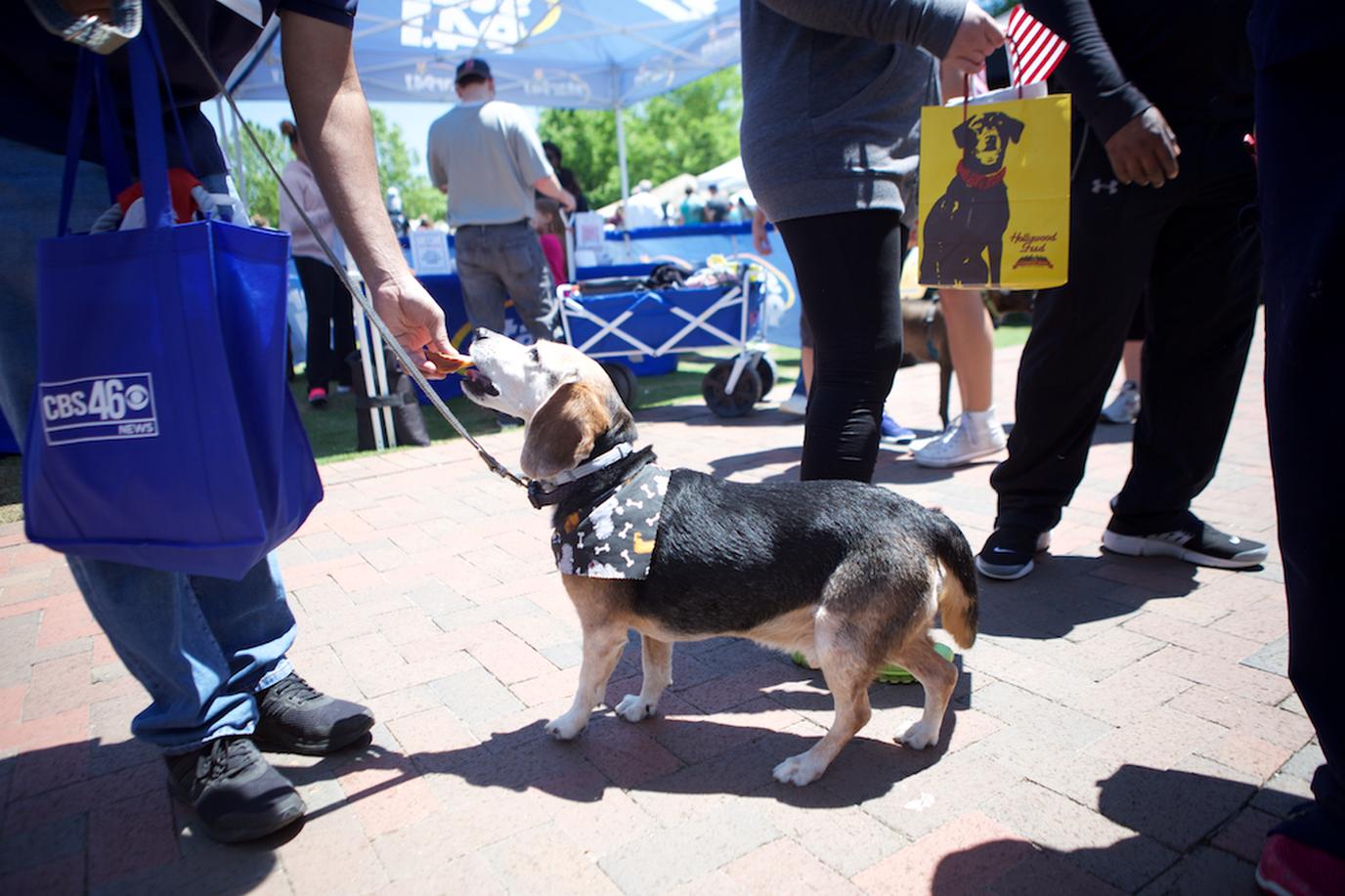 "It's not pet friendly until someone gets a treat!"Photo by Star 94.1 Wooftsock
Whether they tie into one of the above observances or are stand-alone celebrations, people celebrate their dogs around the country in unique ways this month. From Wiener derbies to patriotic dog walks, Here are nine of our favorite pet-friendly gatherings.
Florida Wiener Dog Derby(Tampa, FL)
Dashing Dachshunds at the Florida Wiener Dog Derby.Photo by Florida Wiener Dog Derby
Is there a more majestic site in all of sports than an army of Wiener Dogs racing past, their stubby legs a blur on the ground? Perhaps, but we bet there's no race more adorable. The Florida Wiener Dog Derby, the largest annual gathering of Dachshunds in the state, celebrates its 10th anniversary in 2019. The derby is part of Tampa Riverfest, but it's more than just a race to the finish line. Wiener Dogs also compete in contests of elite skill and ability including Best Nose, Costume, Kissing and Best Tail. Competitions are open to all Dachshunds from the age of 4 months to 18 years old. If you're unlucky enough not to have a Wiener Dog, don't worry. There's a "Wiener Wannabe" small dog breed and mixed breed race at the derby.
The Florida Wiener Dog Derby is held on May 4 at 10 a.m. at Curtis Hixon Waterfront Park in Tampa. Admission is free, but registration for the races starts at $10 per contest per pup. Proceeds go to numerous Dachshund and dog rescue organizations.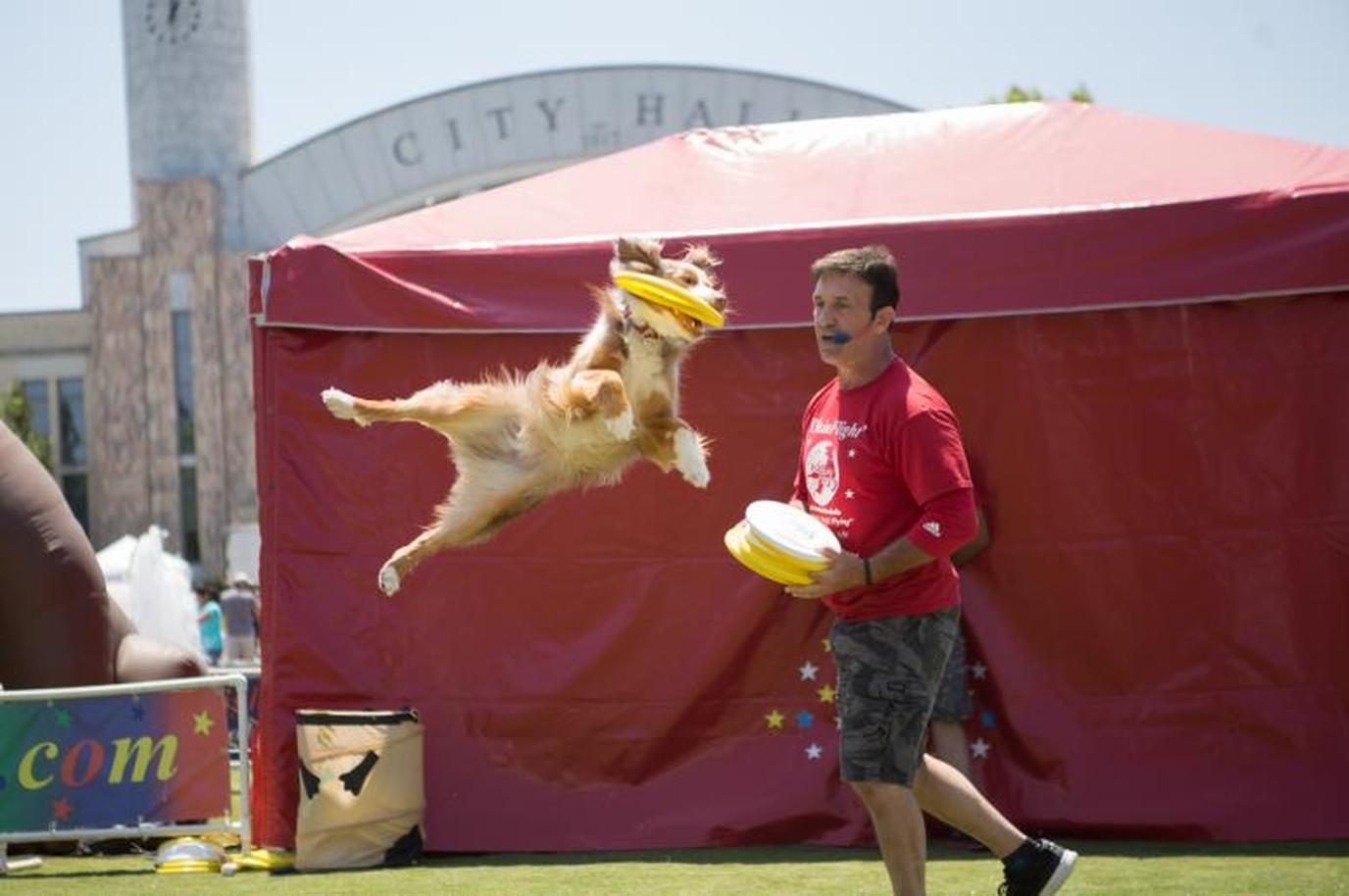 High-flying frisbee fun at Woofstock.Photo by Star 94.1 Wooftsock
Billed as "Atlanta's Largest Pet Party in the Park," Woofstock brings more than 40,000 pet lovers and their pooches to Suwanee Town Center Park for two days of family- and pet-friendly fun. Celebrating its 18th year in 2019, it's also one of the largest pet adoption events in the southeast. With more than 50 animal charities, rescue groups, Fido-focused arts & crafts activities, live music, and food & drink vendors catering to two- and four-legged visitors, this is one of the city's most popular events in May.
Woofstock is held on May 4 from 11 a.m. to 7 p.m. and May 5 until 6 p.m. at the Suwanee Town Park Center. Admission is free.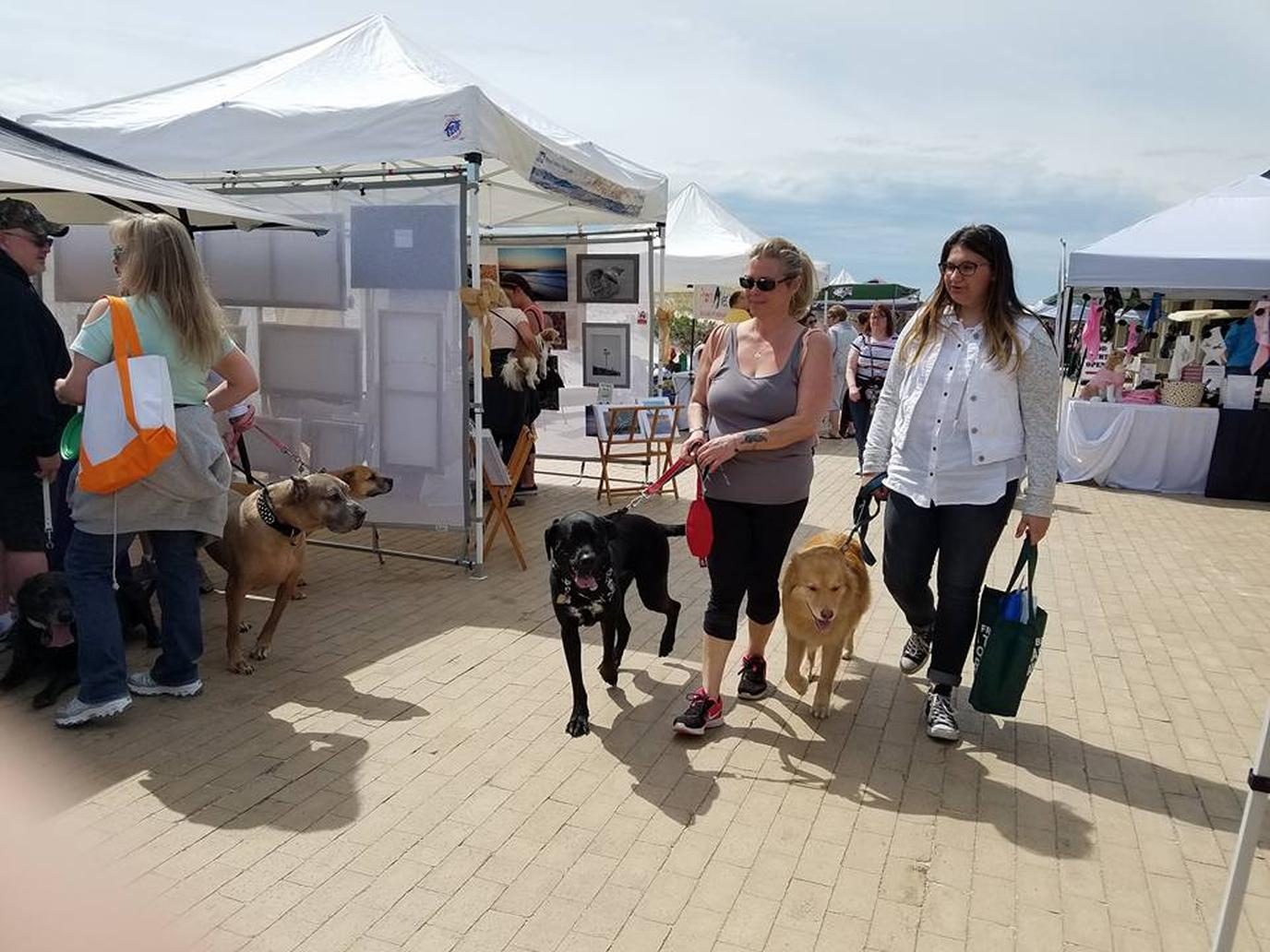 Beachfront browsing at the festival.Photo by Friends of Island Beach State Park
What better way for Fido to celebrate spring than with a romp on the beach? The May Day Spring Festival & Pet Expo is held annually at Island Beach State Park in Seaside Park, NJ. In addition to a group dog walk on the sand, pups can pick up tips from the pros at two police K9 demos. They can also get their nails trimmed for free, and even get microchipped by the Pittie Project (it's free for all Pit Bull breeds, $20 for all other breeds). Animal rescue, pet adoption services, and a variety of pet-related vendors are also on hand to help you make the most of Fido's day out on the Jersey shore.
The May Day Spring Festival & Pet Expo is held on May 4 from 11 a.m. to 4 p.m. at the Island Beach State Park, Swimming Area 1, in Seaside Park, NJ. Admission is free, but an $8 donation is suggested.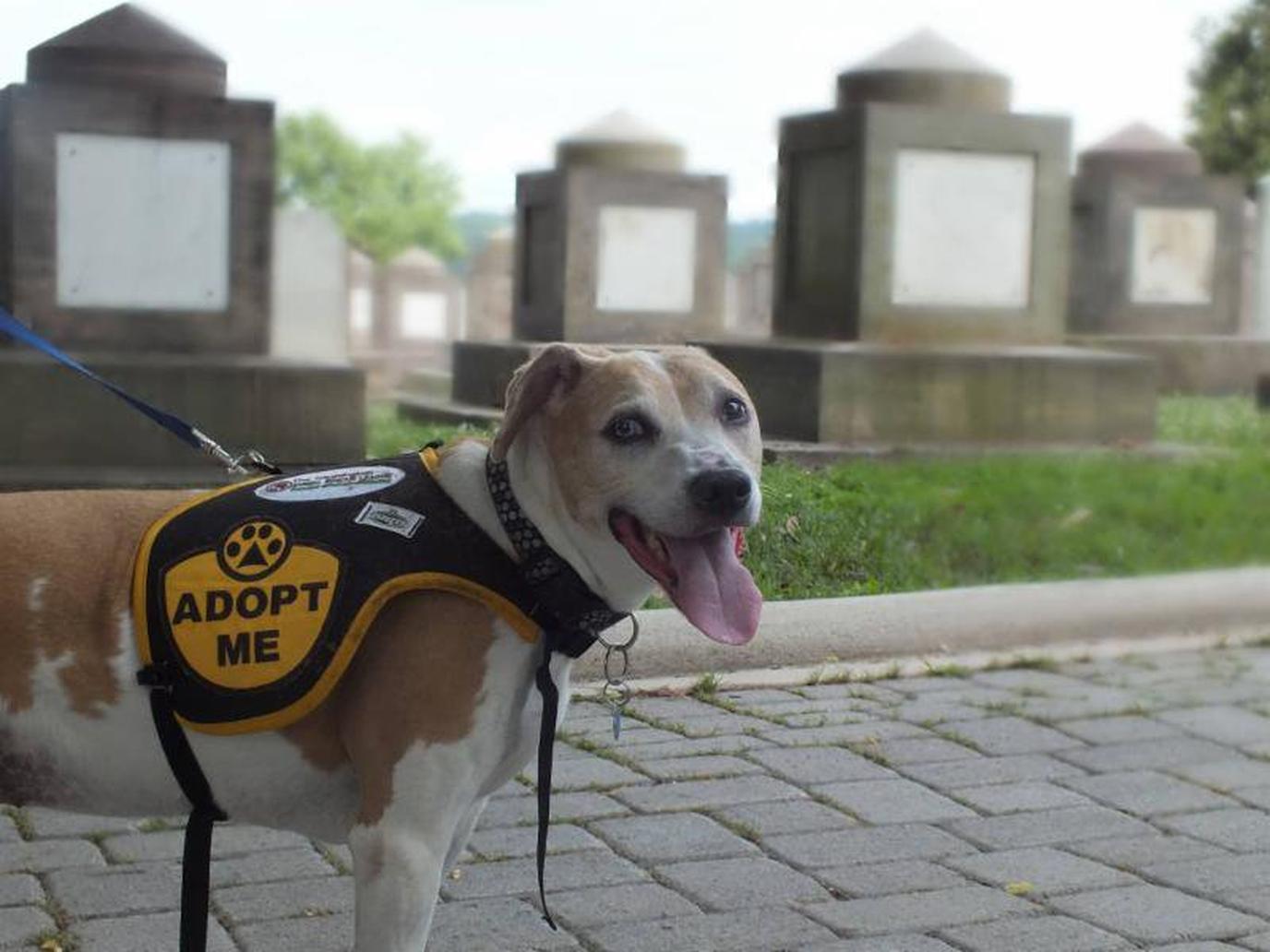 "Adopt me before it's too late!"Photo by Congressional Cemetery
Celebrating Fido in a cemetery may sound a bit odd, but Washingtonians will tell you it's a real treat. The picturesque Congressional Cemetery is considered one of the best places in the city to walk dogs. Unfortunately, it's almost always restricted to DC's K9 Corps members. For one day in May, however, the cemetery opens its gates to all pups and their humans. Beyond the privileged access to a historic site, DC's Day of the Dog includes contests, raffles, pet-centric artists and businesses, and food trucks and breweries (if it's there, be sure to treat your pup to the all-natural peanut butter doggie sorbet). Best of all, many of DC's pet shelters and rescue organizations bring dogs and cats available for adoption.
Day of the Dog is held on May 11 from 10 a.m. to 3 p.m. at Congressional Cemetery in Washington, DC. Admission is free.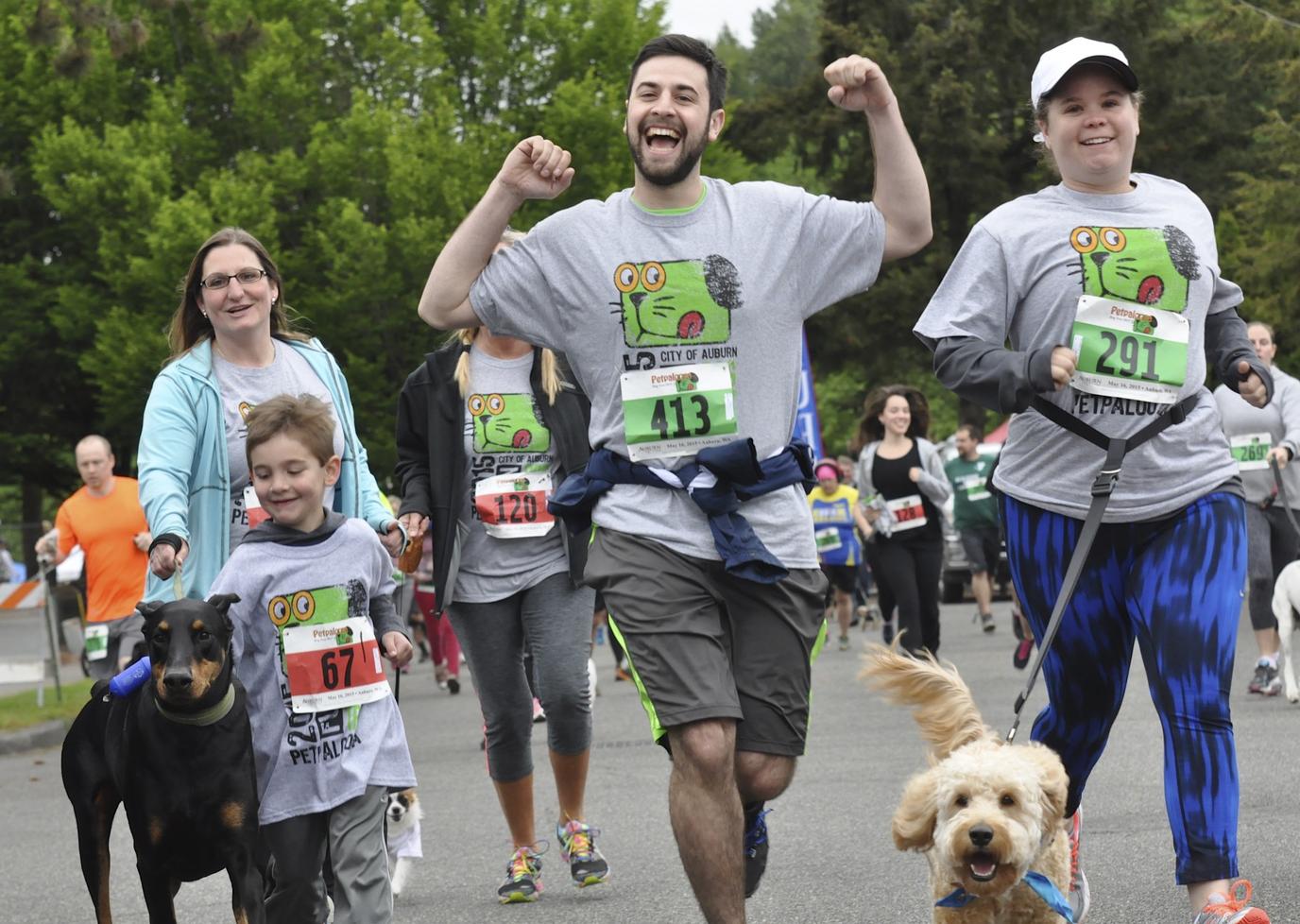 Trotting for a cause feels great!Photo by Auburn Petpalooza
The PetPalooza in Auburn, WA, one of many held this month around the country, deserves special mention for its unique treats. After a 3k dog trot or 5k fun run, stop by the CityDog booth from 12:30-2 p.m. to register your pup for the CityDog Cover Dog Model Search. This annual hunt for a mutt with movie-star looks ends with the winner gracing the cover of Seattle's CityDog Magazine. And it's all to help raise money for animals. At 2 p.m., four-legged contestants strut their stuff on the catwalk while a celebrity judge looks on (in 2019, it's Seattle Seahawk Duane Brown). The festival's other dog events include agility demos and adoption services. While Fido enjoys himself, the rest of the family should check out the All-Alaskan Racing Pig races, pony rides, a bug & critter zoo, and more. Finish the day with Yappy Hour in the beer garden.
PetPalooza is held on May 18 from 10 a.m. to 5 p.m. at Game Farm Park in Auburn, WA. Admission is free, but registration for the Cover Dog Model Search is $10, and registration for the dog trot/fun run starts at $18 per person. Proceeds go to the Auburn Valley Humane Society.
Getting some air at Dominion Energy Riverrock. Photo by Ultimate Air Dogs/Jason Hicks
Dominion Energy Riverrock is an action-packed outdoor sports and music festival that welcomes dogs throughout the weekend, but Fido can also participate at two of its signature events. The Filthy 5k Mud Run starts with contestants slogging through a massive mud pit. You can enter your pooch in the Dog Wave, which will have him romping through trails, across a river and finally, blissfully, into the mud. All dogs must be leashed, and only one dog per human is permitted on the course. (The festival is not responsible for the state of your car/clothing/bathroom after this event!) If mud his not his thing, your pup can test his dock-jumping skills at Subaru Ultimate Air Dogs. All dogs are eligible to enter as long as they're at least six months old.
Dominion Energy Riverrock is held from May 17-May 19 at Brown's Island and Historic Tredegar Iron Works in Richmond, VA. Admission is free, but ticket prices start at $20 for Subaru Ultimate Air Dogs and $30 for the Filthy 5k Mud Run.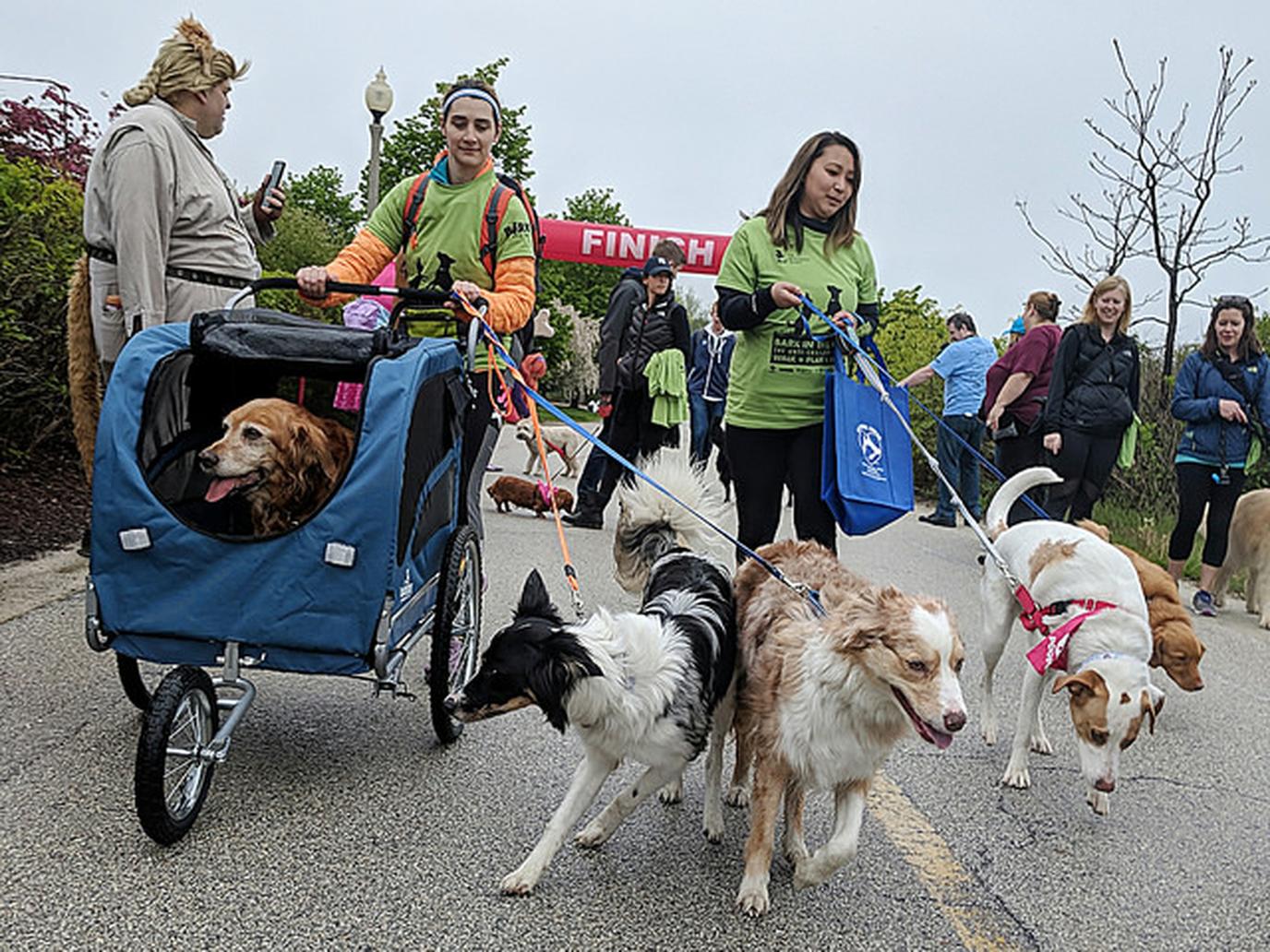 Bark in the Park is one of Chicago's largest fundraising events for homeless pets. Photo by StarEvents
Celebrating its 25th anniversary in 2019, Chicago's Bark in the Park is the largest fundraising event of the year for the Anti-Cruelty Society. This Chicago institution has been helping sick, injured and homeless animals since 1899. Held at Chicago's famed Soldier Field Stadium, Bark in the Park lets two- and four-legged participants come together for a pleasant stroll along a lakefront path. Other activities include canine agility courses, dog massages, a pawdicure spa, caricature drawings, and a raffle. You and your pup can also sample products from small business sponsors, check out a variety of arts and crafts, and enjoy live music.
Bark in the Park is held on May 18 from 9 a.m. to 1 p.m. (registration opens at 7:30 a.m.) at Soldier Field Stadium Green in Chicago, IL. Tickets are $40 for adults and $10 for children 3-12, with proceeds going to the Anti-Cruelty Society.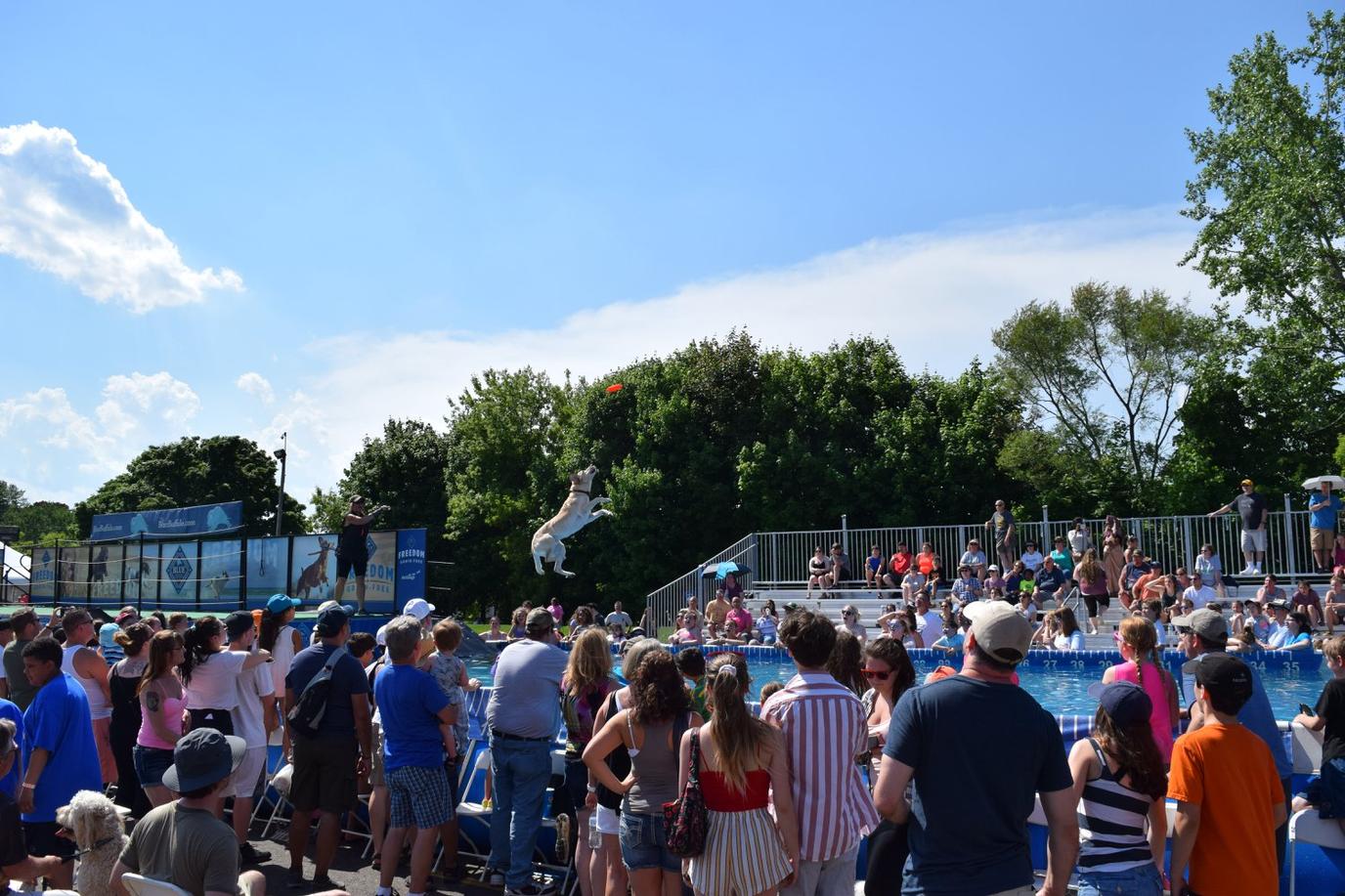 Welcome to the "Olympics for dogs."Photo by Frankenmuth River Place Shops
Got any plans this Memorial Day Weekend? How about attending the largest Olympic-style dog event in the world? Each May, canine competitors head to the Frankenmuth Dog Bowl to jump, dive and retrieve like champs. With events like disc dog competitions, Wiener Dog races, sheep herding, agility courses and much more, you'll get the chance to see these four-legged athletes in their prime. You can also register your pet to compete in 22 events (ranging from races to silly pet trick competitions), enjoy a canine cruise on the Bavarian Belle river boat, or just let them loose in the on-site doggie play park and kiddie pool. On Sunday, a Dog Bowl King and Queen are crowned and honored as the Grand Marshals of the pet parade that follows (this means they get to ride at the front in golf carts rather than use their paws like mortal mutts).
The Frankenmuth Dog Bowl is held on May 25 from 8 a.m. to 8 p.m. and May 26 until 6 p.m. at Frankenmuth River Place Shops in Frankenmuth, MI. Admission is free.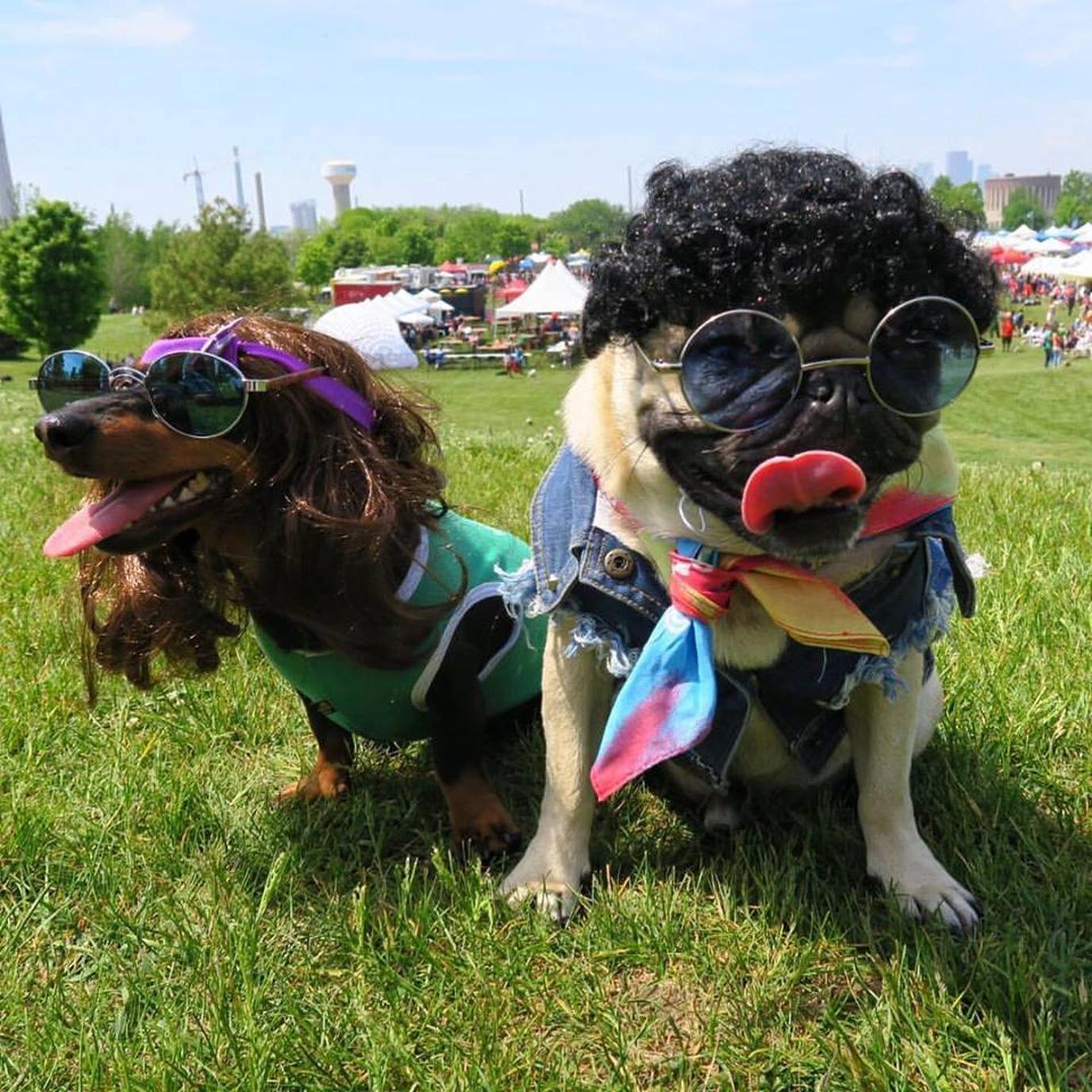 "Peace, love and treats, man."Photo by Facebook.com/BarkleyWoofstock
There's another Woofstock taking place this month, and it's the largest outdoor festival for dogs in North America. In addition to an absolute sea of booths with pet-related products, samples, services and non-profits, the festival includes a fashion show, a concert for dogs (featuring jazz, classic and Celtic tunes geared to canines), and much more. The event celebrates its sweet 16th anniversary in 2019, and was awarded Best Public Event, Fair of Festival of the year by the Canadian Event Industry.
Woofstock takes place on May 25 from 10 a.m. to 6 p.m. and May 26 from 10 a.m. to 5 p.m. at Woodbine Park, 1695 Queen Street East in Toronto, Ontario, CA. Ticket prices start at $12.
Washington, DC Week for the Animals(Washington, DC)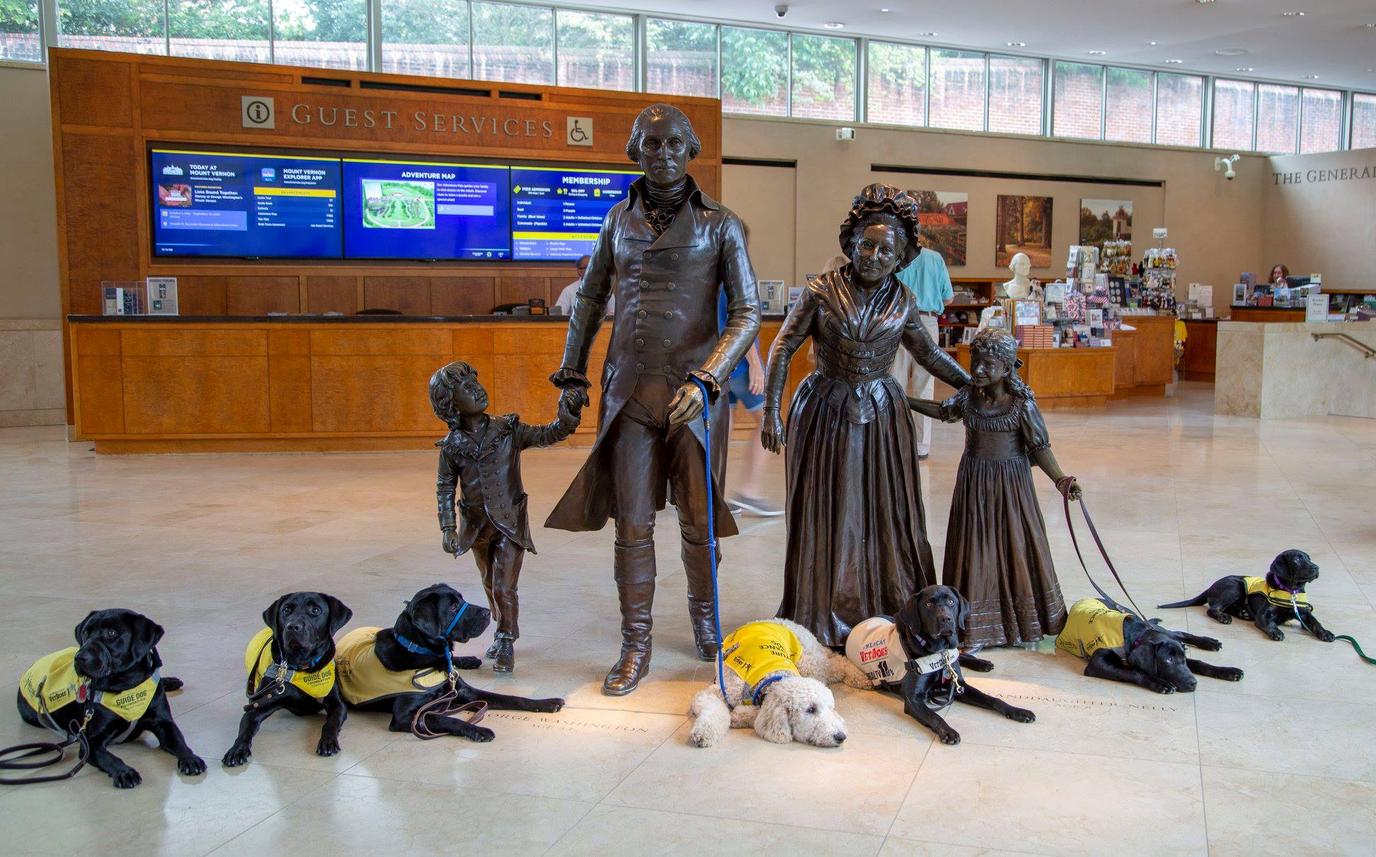 All the president's pups are tired. Photo by Facebook.com/HistoricMountVernon
We close out May with a return to the nation's capital, just in time for Memorial Day and a weeklong tribute to our animal friends. Washington, DC's Week for the Animals celebrates its 11th year in 2019 with a variety of pet-friendly events in coordination with parks, historic sites and local businesses. On Saturday, May 25, you and your pooch can learn about canine life at historic Mount Vernon with the 1.25-mile All the President's Pups Walking Tour. The guided walk is held every Saturday in May at 10 a.m. and costs $7. Throughout the week, shelters and rescue organizations in the DC metro area host adoption events and offer low-cost spay and neuter services.
Source:
https://www.bringfido.com/blog/dog-friendly-events-in-may/