Get a Dog Used to Plane Trips in a Crate
Source: https://traveltips.usatoday.com/dog-used-plane-trips-crate-13323.html
Air travel can be strenuous for dogs and is only advised when truly necessary. For dogs, an airplane ride can be confusing and frightening.
STEP 1
Buy an airline approved dog carrier weeks before you plan to leave for your trip. Airline regulations state that pet should be able to stand up and turn around inside the crate, so be aware of her measurements.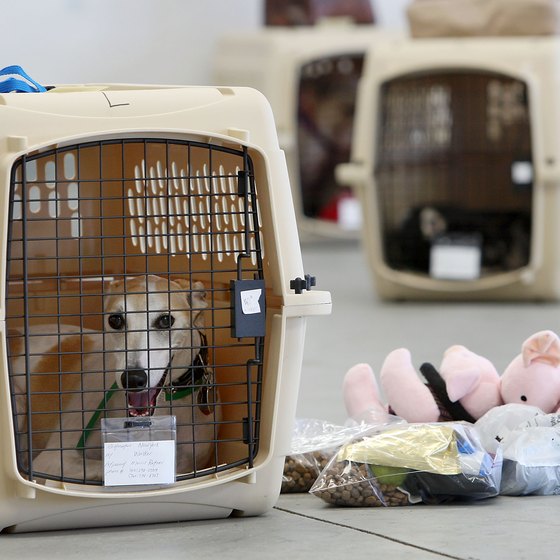 STEP 2
Start acclimating your dog to the crate and make it more inviting and cozy by lining it with the dog's favorite blanket or cloth. Place him in the carrier inside the home for at least a few minutes, perhaps during nap time.
STEP 3
Get the dog accustomed to the travel carrier by placing them inside and then taking your dog on a car ride during the day. Start with a trip no longer than an hour or two.
STEP 4
Take another road trip with your dog in the crate and this time make it an overnight stay in another destination–perhaps at a friend or relative's house or a pet-friendly hotel. This should acclimate your dog to the unfamiliar people, sights, sounds, and smells of a new place as well as travel in the carrier.
TIPS
Don't forget to bring extra puppy pads, towels and baby wipes to clean up any accidents that may occur on the plane trip. Also, bring plastic zipped bags to store the soiled cloths.
Toss one of your recently worn T-shirts into the crate with the dog's favorite blanket so he'll have your reassuring smell alongside him during the plane ride.
Verify your dog's health with a veterinarian at least 2 weeks before the trip. It's important for your dog's safety and is a legal requirement. Dogs should be vaccinated and cleared of any contagious illnesses before being allowed to travel.
Don't give your dog a tranquilizer before putting him in the travel crate. This can cause of illness and death of dogs during air travel, and there is no access to medical care once the plane leaves the ground.