13 Adorable Hotel Mascots Who Always Lend a Paw
First impressions matter in the hotel business. The reception you get when you check in can make or break your experience. These hotels know all too well that a proper welcome sets the table for a happy stay, and they've recruited highly skilled four-legged ambassadors to ensure their customers are delighted from day one. Meet 13 hotel mascots who take pet-friendly accommodations to a whole new level.
Bachelor at the Ritz-Carlton, Bachelor Gulch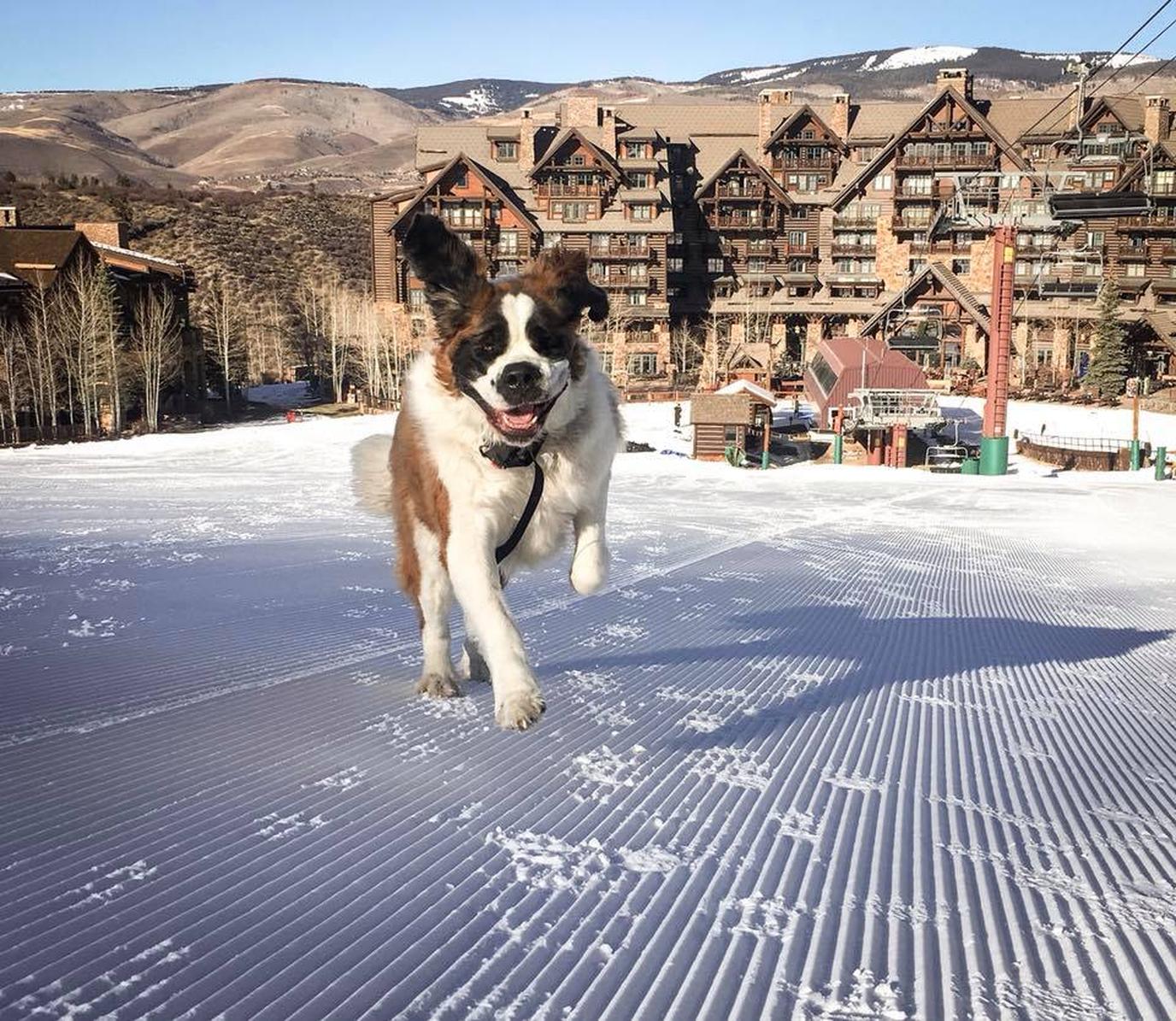 Bachelor is eager to welcome you to his home! Photo by Facebook.com/ritzcarltonbachelorgulch
Tucked into the sloping hillside of Beaver Creek Mountain in Avon, CO, the stunning Ritz-Carlton, Bachelor Gulch offers its guests a truly luxurious retreat. That includes furry customers, who get to hang with Bachelor, the resort's Canine Ambassador and Pack Leader. This place is serious about its pet-friendliness. The Bachelor's VIP pack comes with an overstuffed dog bed, branded dog bowl, gourmet treats and "Pet in Room" sign. You can also request a Pampered Pup spa treatment that includes an in-room dog massage followed by a light bath spritz. And don't forget about the puppy room service, which delivers gourmet Bachelor-approved meals like top sirloin and scrambled eggs with jasmine rice; steamed vegetables, over-easy eggs and jasmine rice; and the German Shepherd's Pie of ground lamb, peas and carrots.
Pets are also allowed in the resort lobby and the outdoor patios at WYLD and Buffalos restaurants. Once you're ready to explore your majestic natural surroundings, you'll be happy to know that Fido is welcome on all guided hikes and snowshoe tours led by the resident naturalists. If you prefer skiing, the resort offers ski-in/ski-out access to Beaver Creek Mountain.
The Ritz-Carlton, Bachelor Gulch welcomes two dogs of any size for an additional fee of $125 per pet (for stays of 1 to 3 nights) and $25 per pet for each subsequent night. Rates start at $189 per night.
Winston and Churchill at the London West Hollywood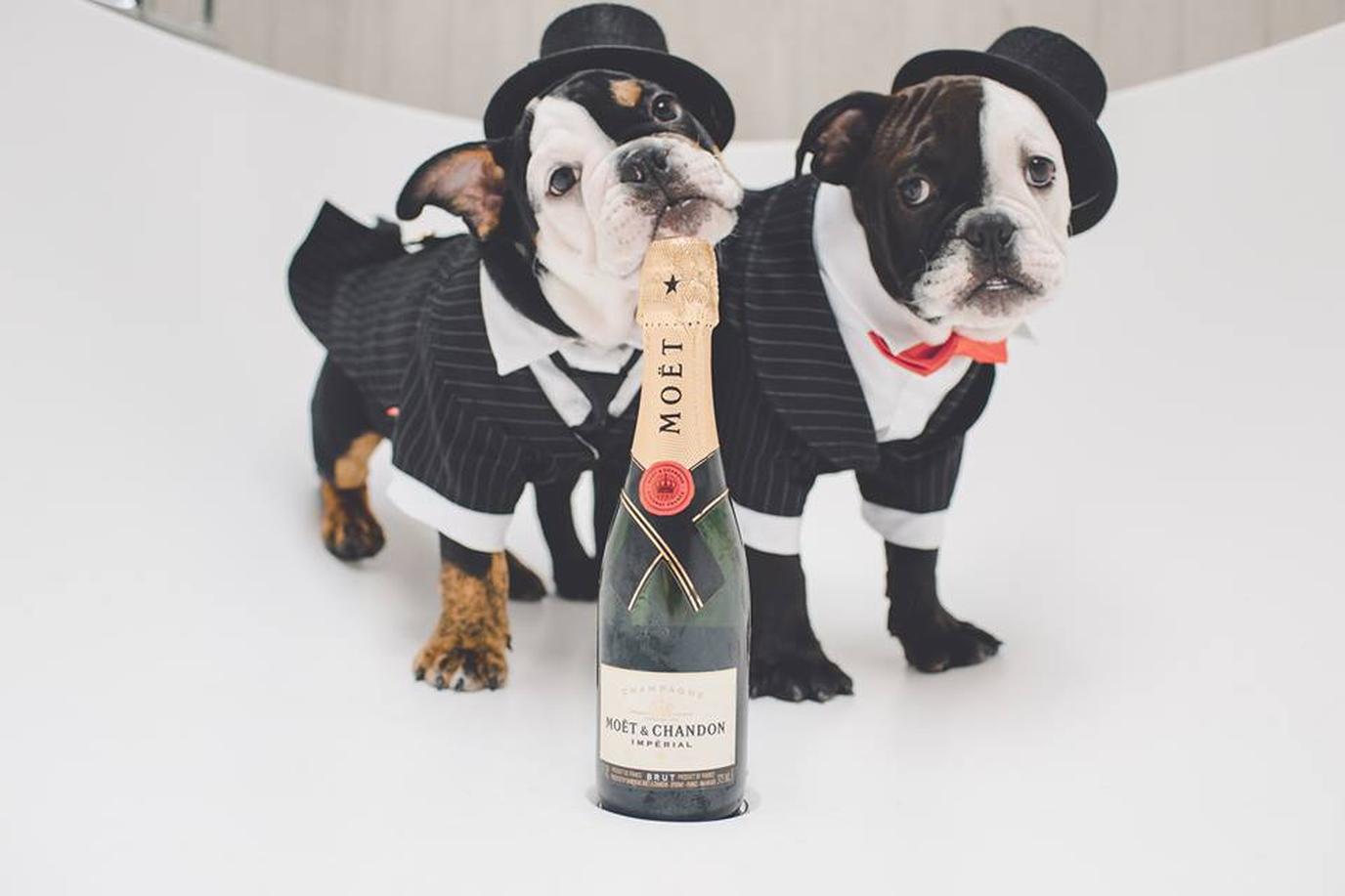 Winston and Churchill greet you in style. Photo by Facebook.com/thelondonwesthollywood
The London West Hollywood is where cosmopolitan British elegance meets laid-back California cool. You could say the same about Winston and Churchill, the English Bulldogs who call these swank digs home. The two "rascals" can be found lounging, playing and meeting guests all over the hotel, from the rooftop pool to the English-style rose garden. Guests can even invite the hotel mascots to their private event for a $250 donation to a local animal shelter.
The London West Hollywood's pet-friendly package includes an all-natural dog bed, organic treats, food and water bowls, and a doggie clean-up kit with waste bags. Fido's human companions can also get a taste of Winston and Churchill's high life at this luxury all-suite hotel. The rooms are spacious, stylish and contemporary, with spa-quality baths and sweeping views of the city or the Hollywood Hills. Your stay comes with complimentary European-style breakfast and access to the rooftop pool, an urban oasis with sundeck and private cabanas. And in true Hollywood style, the hotel also features a private screening room with plush theater-style seats that can accommodate up to 110 guests.
The London West Hollywood welcomes one pet up to 25 lbs for an additional fee of $20 per night and $100 per stay. Nightly rates start at $472.
Kitty at the St. Regis Aspen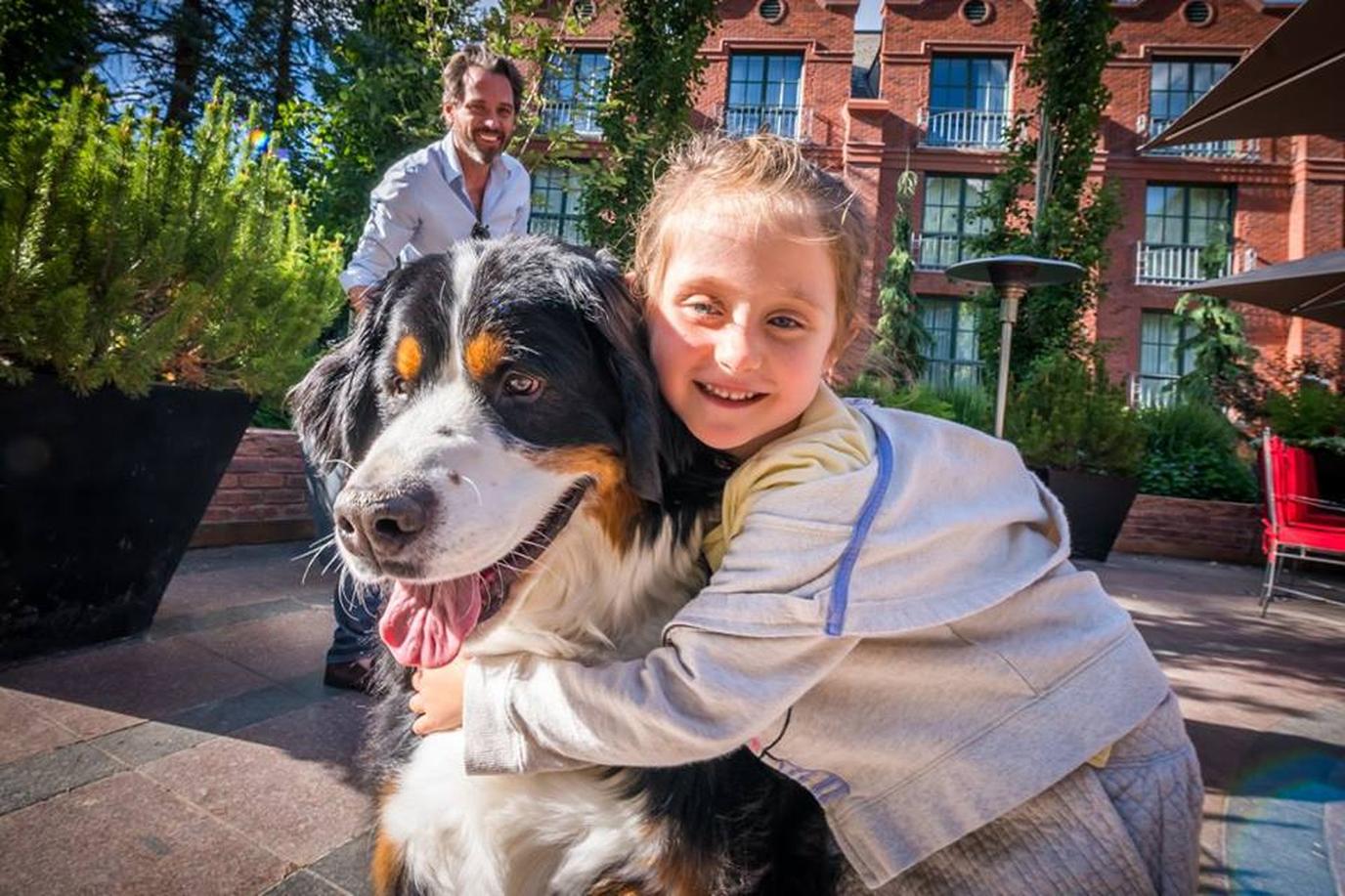 Kitty knows how to keep her guests happy. Photo by Facebook.com/stregisaspen
Kitty's Instagram shows just how ruff the life of a hotel mascot can be. Surrounded by the luxurious ambience of the St. Regis Aspen, Kitty gets to endure such hardships as daily champagne saberings, a monthly Bark 'n Brews Pawty on the Patio (with proceeds going to Lucky Day Animal Rescue), and the signature butler service that every guest receives at this exclusive resort. Your dog will be equally pampered during his stay. Fido gets his own dog bed, copper bowl (as well as a travel bowl), hiking vest or puffy jacket, jogger, booties and doggles. You'll also have a dog carrier, carseat, leather dog leash and poop bag holder, and can request a bath for your pooch through nearby Rocky Mountain Pet Shop. Finally, the resort offers a Puppy Menu with dining options including a "Sushi's Favorite" roll (Sushi is executive chef Laurent Pillard's dog), beef tenderloin, and a protein bowl.
The St. Regis Aspen Resort welcomes two pets of any size for an additional fee of $50 per pet, per stay and $25 per pet, per night. Nightly rates start at $399.
Bella Bellwether at the Hotel Bellwether
Bella will do what it takes to make your stay a pleasant one. Photo by facebook.com/HotelBellwether
Bella, the Chief Canine Officer at the prestigious Hotel Bellwether, knows a thing or two about living in the lap of luxury. Located on Washington's Bellingham Bay, the Bellwether is one of the Pacific Northwest's premier hotels. The pet-friendly rooms are richly appointed, some with a natural gas fireplace and Jacuzzi bath. Enjoy the spectacular waterfront views (sunsets are not to be missed here), charter a sailboat or yacht from the marina, or take Fido hiking or skiing in nearby Mount Baker. The marina is also your access point to the San Juan Islands and the Old English city of Victoria on Vancouver Island. If you prefer to stay at the hotel, enjoy a choice of fine restaurants, two spas, and of course, access to Bella, who is happy to show you around the waterfront park.
The Bellwether allows dogs of any size for a fee of $25 per pet, per night. Room rates start at $198 per night.
Millie at the Hilton Milwaukee City Center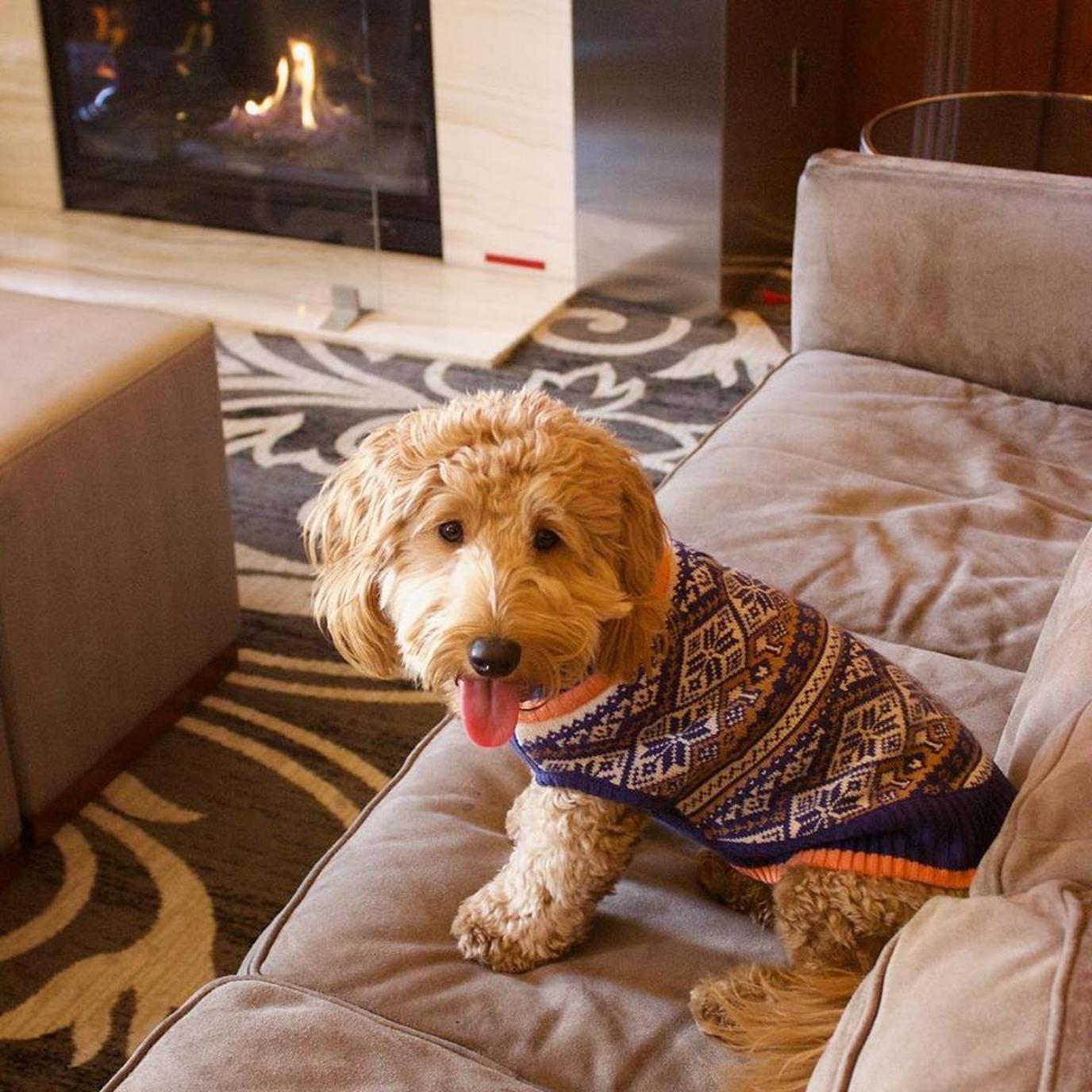 Millie will save you a seat by the fire. Photo by Facebook.com/hiltonmilwaukee
How popular is Millie? When you leave, you can take a plush version of her home with you! The canine concierge at the beautiful art deco Hilton Milwaukee City Center can usually be found in the lobby Tuesday through Saturday from 10 a.m. to 6 p.m. She even has her own special offer: the "Friends of Millie" Puppy Package. Starting at $145 per night, the package includes the Millie plush toy, dog bowl and dog bed, complimentary treats from local vendors, and cleaning fee included. The hotel also has a dog-friendly green space called 6th & Green. While Fido and Millie bond, human guests can enjoy the staff's warm hospitality and the blend of 1920's elegance with modern sophistication. It's the largest hotel in the city and is close to many of Milwaukee's best attractions.
The Hilton Milwaukee City Center welcomes two pets up to 75 lbs for an additional fee of $50 per stay. Nightly rates start at $122.
Coco at the the Kimpton Everly Hotel in Hollywood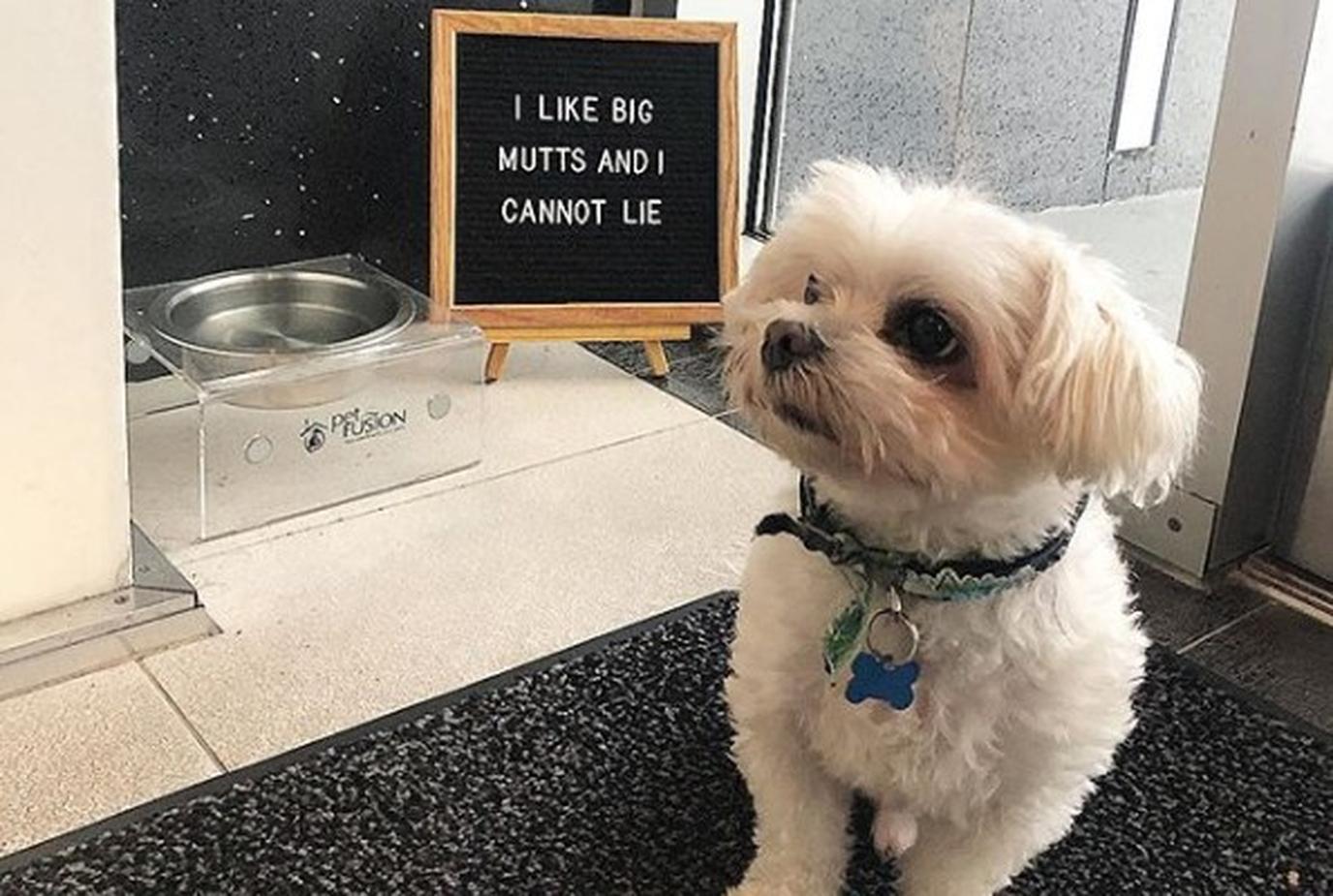 Coco tells it like it is. Photo by @lifeofcoconut
If the lobby at the Kimpton Everly is indeed Hollywood's hippest gathering place, it probably owes some of its appeal to Coco, its Director of Pet Relations. With its chic rooftop pool, evening wine hour (Fido is welcome to join), and custom-designed bikes available to guests, the Kimpton is a welcome breath of cool amid the city's bustle. The stylish, modern rooms are equipped with a yoga mat and come with panoramic views of either the LA skyline or the Hollywood Hills and that iconic Hollywood sign. Oh, and your dog gets a dog mattress by Casper, food and water bowls, and courtesy bags. Coco's human co-workers also keep a list of nearby pet-friendly restaurants, parks, groomers and boutiques.
The Kimpton Everly welcomes dogs of any size for no additional fee. Nightly rates start at $279.
Bailey at the Cottages at Nantucket Boat Basin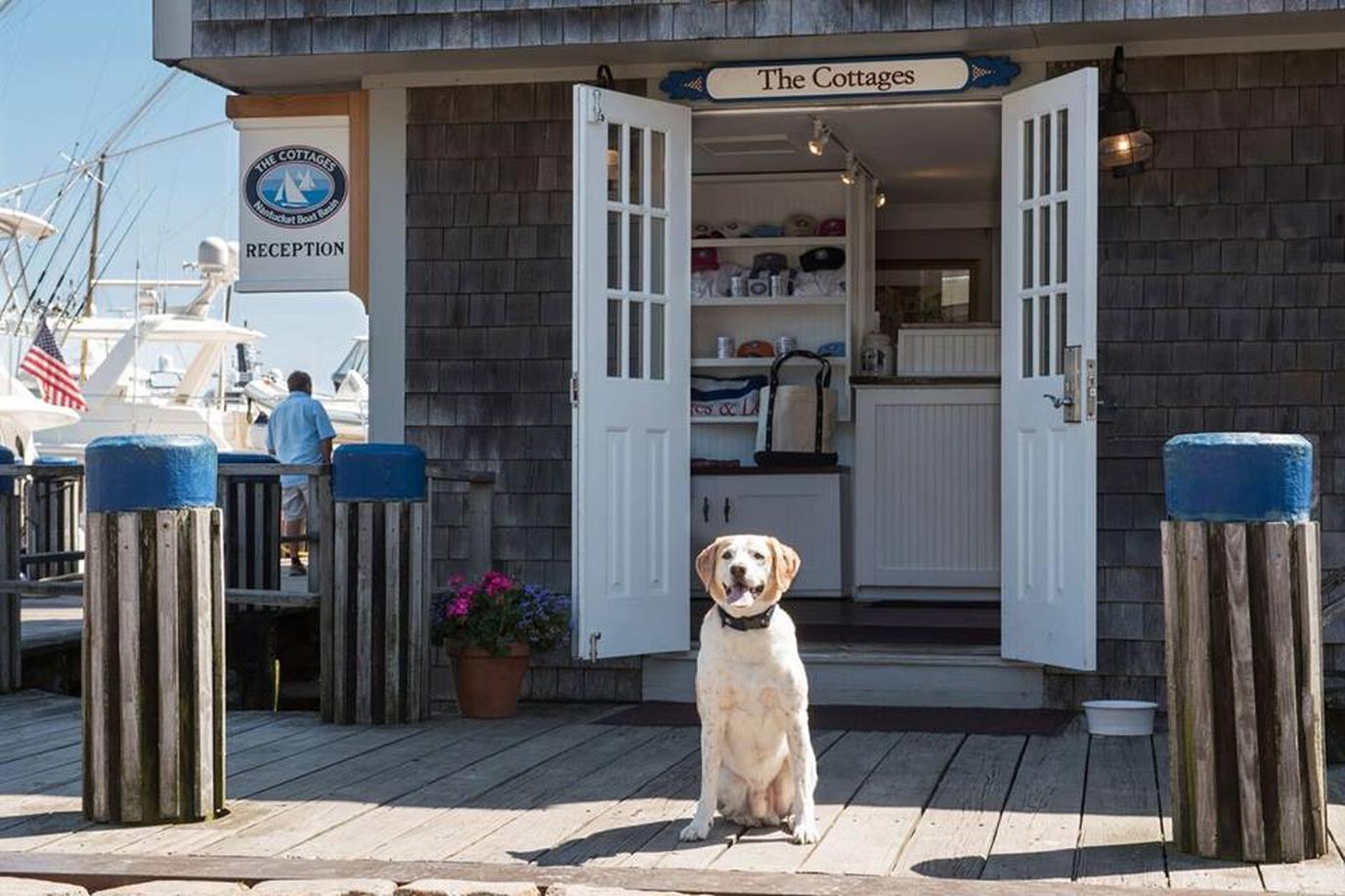 Bailey can't wait to show you to your Woof Cottage. Photo by Facebook.com/TheCottagesNantucket
There once was a dog from Nantucket… and he became the Pet Concierge at the Cottages at Nantucket Boat Basin. Bailey knows his way around the island as well as the charming pet-friendly "Woof Cottages" at Boat Basin. These one- or two-bedroom accommodations come with doggie beds and bowls, personalized pet tags, a welcome bag of nautical chew toy and doggie treats. Dog-walking services and pet turndown service are also available. While you're here, you can enter your pooch into the Cottages' monthly Facebook and Instagram "Top Dog Contest" for a chance to win a two-night stay.
Fido's two-legged friends have free access to bikes, beach towels, chairs and umbrellas, coolers, and boogie boards. The resort also offers a complimentary Beach Bus from mid-June to mid-September.
The Cottages and Lofts at Boat Basin allows two pets of any size for an additional $45 per night. Additional pets may be permitted with prior hotel management approval. Room rates start at $175 per night.
Parker the Pug at the Park Hyatt Chicago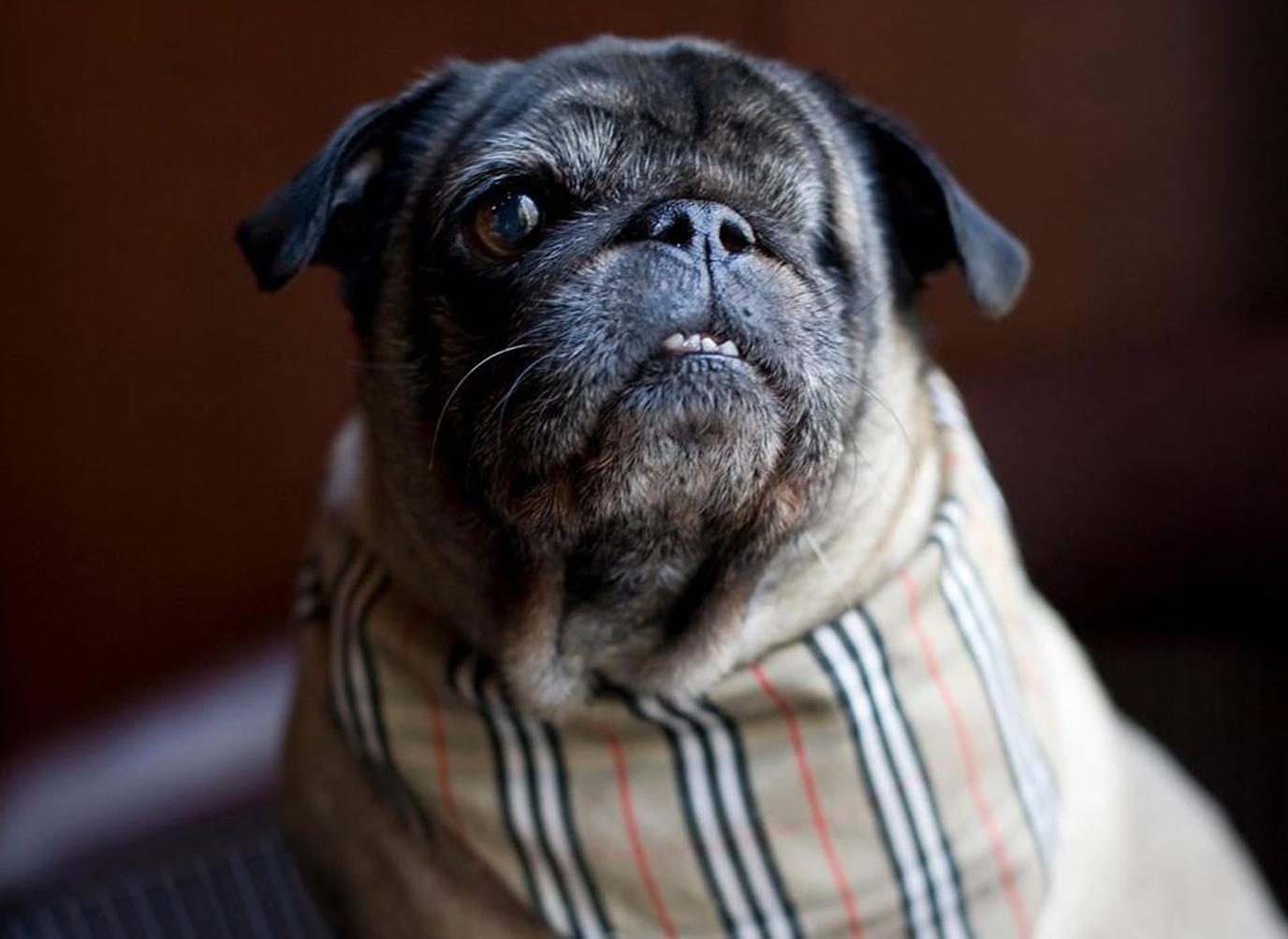 Parker looks good in Burberry. Photo by Facebook.com/ParkHyattChicago
Helping to turn the Park Hyatt Chicago into the Bark Hyatt, Parker is part hotel employee, part resident celebrity. Adopted by the general manager, who felt that a one-eyed Pug might have trouble finding a permanent home, Parker soon became a fixture at his new digs. Often seen wearing a Burberry bandana and greeting guests in the lobby, Parker embodies the hotel's pet-loving philosophy. Upon request, the staff will deliver a dog bed, dog bowl and treats to your room. And the hotel donates 100% of the standard $100 pet fee to PAWS Chicago, a local no-kill animal shelter.
Located steps from Magnificent Mile, the Park Hyatt Chicago is an upscale boutique hotel with award-winning on-site dining and well-appointed rooms that include deep soaking tubs and window benches with views of Lake Michigan, the Water Tower or Chicago's Gold Coast.
The hotel welcomes two dogs up to 40 lbs for an additional fee of $100 per dog, per stay. Room rates start at $395 per night.
Beau, Bubba Jr. And Beulah at the Marines' Memorial Club & Hotel in San Francisco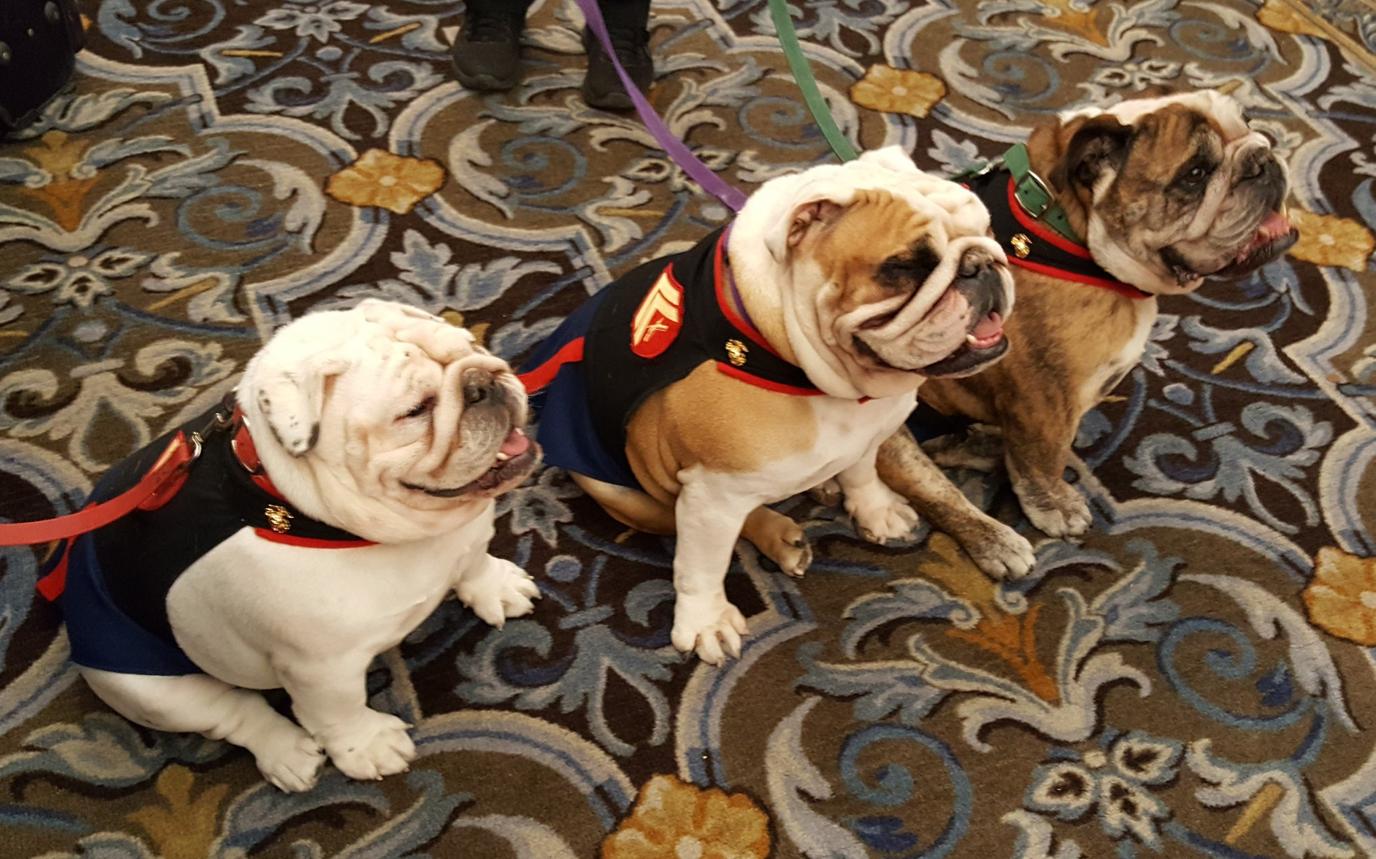 Now there's a Bull-ish welcome to San Francisco. Photo by Facebook.com/MarinesMemorial
It's not often that you get a three-bulldog salute when you check in, but it's par for the course at the newly renovated Marines' Memorial Club & Hotel. The hotel's Very Important Pet package includes a dog bed upon request and a door hanger to let other guests know that Fido is staying with you. The hotel also has a pet-friendly guide to San Francisco, with details on nearby activities and restaurants that welcome dogs.
You and your pooch will appreciate the hotel's enviable location near historic Union Square, as well as the complimentary daily breakfast and happy hour at the rooftop restaurant.
Pets of any size are welcome at the Marines' Memorial Club & Hotel for no additional fee. Nightly rates start at $179.
Aero at the Best Western Plus Chocolate Lake Hotel in Halifax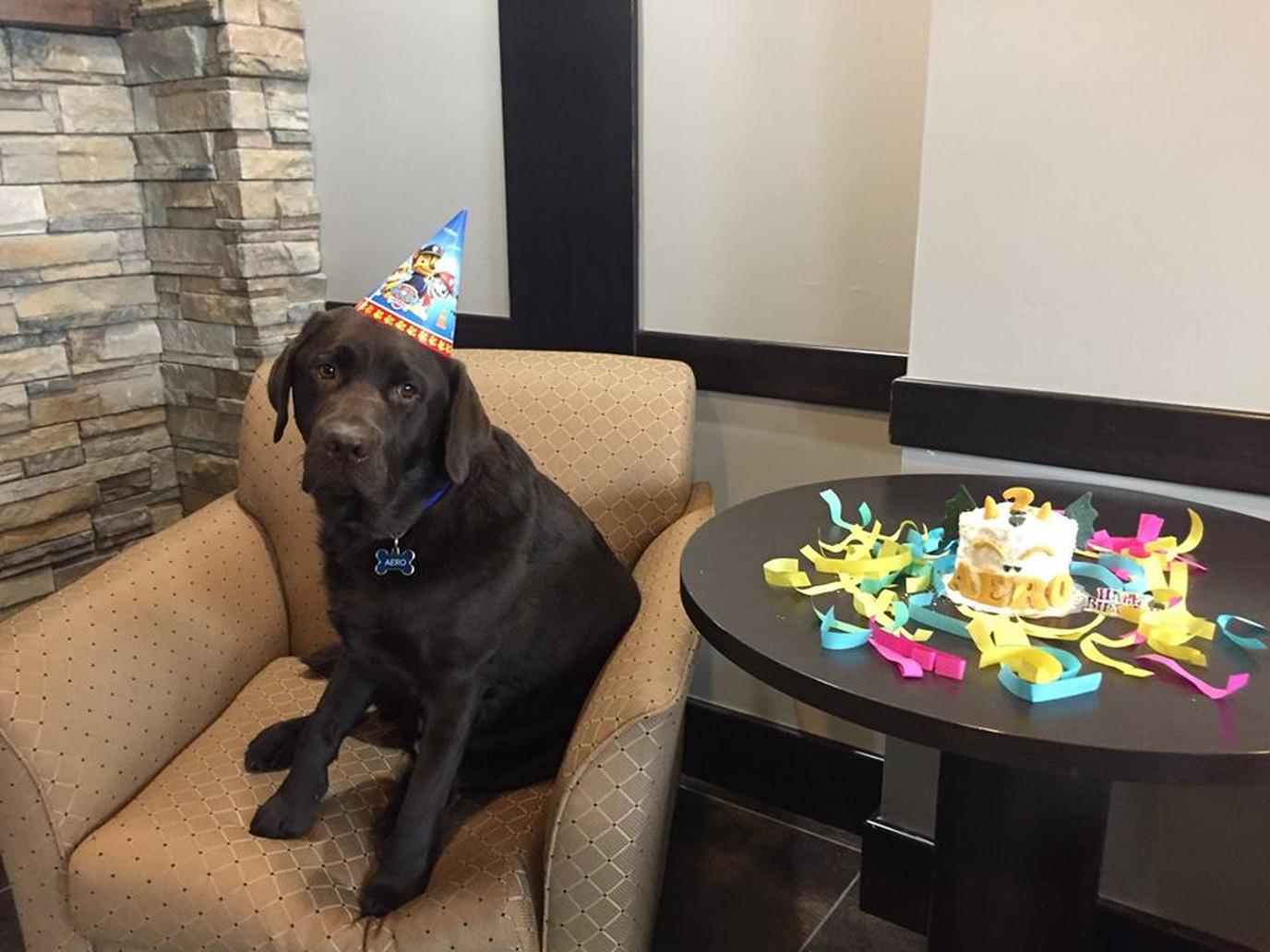 All employees get a break on their birthdays. Photo by Facebook.com/chocolatelakehotel
When the Best Western Plus Chocolate Lake Hotel hired Aero as its new Welcome Ambassador, the staff knew he had big shoes to fill. Aero inherited his job duties from longtime mascot Cocoa, who passed away but left an indelible legacy on the hotel. Fortunately, the new guy quickly became a favorite with staff and guests alike. Under Aero's supervision, visiting pups receive welcome gifts which include a treat and a roll of doggie bags. He lives at the hotel full-time, and his feeding schedule is posted so that he doesn't miss any meals. When the Conference Services Manager leaves for the day, Aero takes over her office as his own personal den. His bed is in there, and he can get a good night's sleep away from the hustle and bustle of the typical busy hotel night. He is introduced to every four-legged guest that checks in, and takes his job so seriously that he's currently enrolled in Puppy Socialization Class with the hotel's Guest Services Manager.
The Best Western Plus Chocolate Lake Hotel welcomes two pets up to 170 lbs for no additional fee. Room rates start at $110 per night.
Source:
https://www.bringfido.com/blog/13-hotel-mascots-dog-friendly-hotels/